Morro Bay OA Monitoring to support Aquaculture
The seagrass in Morro Bay has vanished over the last decade (declines from a max of 344 acres down to less than 20 currently). This loss of seagrass may have substantially altered the chemical cycling of CO2 in the bay. So in summer of 2019, Cal Poly Professor Emily Bockman and her research group started monitoring the carbonate chemistry to better understand this ecosystem and how it changes seasonally. Bockman has also done regular spatial characterization, which indicates substantial differences between the chemistry at the mouth and near the back of the bay.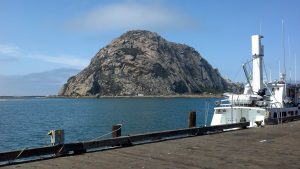 This work builds on temperature and oxygen data that Ryan Walter has collected in this environment. Adding high frequency measurements of carbonate chemistry to the Morro Bay Station would help us understand that modification to the biogeochemisty that is happening inside the bay, and potentially what impact this may have on the Bay health as a whole, and on the oyster farmers within the bay specifically. Dungeness Crab was Morro Bay's top earning fishery in 2014 ($2.7 million) and it is one of the top-producing oyster ports in CA. 
In January 2020 Cal Poly researches deployed two borrowed pH sensors to collect regular data, which are processing and interpreting now. Initial results only make me more interested in continuing this collection. Additionally, Bockman recently contributed to a fast response proposal by the Morro Bay National Estuary Program to the EPA's Resiliency Project in FY2020.  Within this new project SeaFET pH sensors were installed at the two CeNCOOS locations in Morro Bay, as a means of gaining water quality understanding that can support management and preparations for future shifts in estuarine waters. This data will supplement the current collections at Morro Bay well, and the Bockman group continues to provide the needed regular discrete sampling for calibration and complete CO2 system understanding. 
Project Principal Investigators:
Dr. Emily Bockmon, Assistant Professor, Cal Poly
Dr. Ryan Walter, Associate Professor, Cal Poly